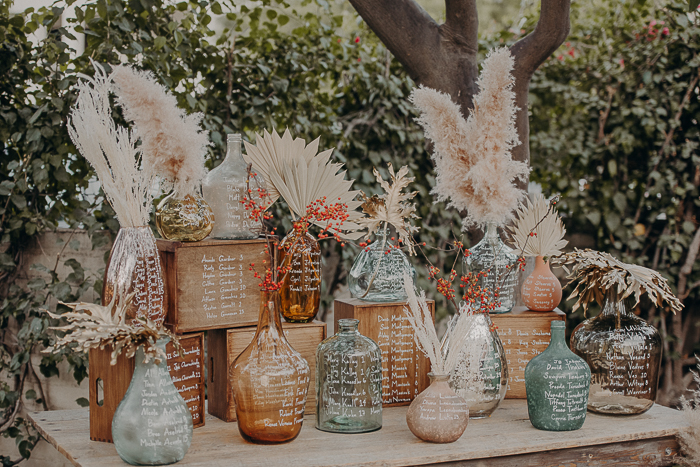 When it comes to reception decor, your wedding seating chart might be the most practical item but that doesn't mean you can't get creative with it! After you've decided on where your guests are sitting, you need a substantial and easy-to-read display that your guests can see the moment they walk into the reception space. It's the one sign everyone is guaranteed to look at, so it's important that it fits seamlessly with your theme and color palette. Whether you're looking for elegant, bohemian, DIY, or retro options, we've got a wedding seating chart to fit every style.
Wedding Seating Chart FAQs
Is a seating chart necessary?
Although seating charts aren't necessary, they are extremely helpful–especially if you are having a larger wedding. It makes it much easier for your guests to navigate your venue and helps you stay on schedule if you're doing toasts, plated dinners, etc. Lastly, they're a great way for your guests to be comfortable socially since you are able to place everyone with familiar faces.
What's the difference between a seating chart and escort cards?
Escort cards are specifically designed for your individual guests with their names and table number that they can take with them as they move around. Oftentimes, you'll find that they also include their food preference if having a seated dinner. Seating charts, on the other hand,  are one large display that guests can glance at before finding their tables.
Do the newlywed's parents sit together?
This one is entirely up to personal preference. If your parents and in-laws get along, they'll most likely love sitting together and sharing your special day with one another. If there's a possibility of tension, don't be afraid to sit them with other family members.
 Food and Beverage Seating Charts & Escort Cards
Retro Seating Charts & Escort Cards
Themed Seating Charts & Escort Cards
Simple Seating Charts & Escort Cards
Whether you're looking for something themed for your special day or a seating chart that's elegant, these wedding seating charts are the perfect inspiration. If you're still stuck trying to figure out how to seat your guests, our wedding reception seating chart guide may help!